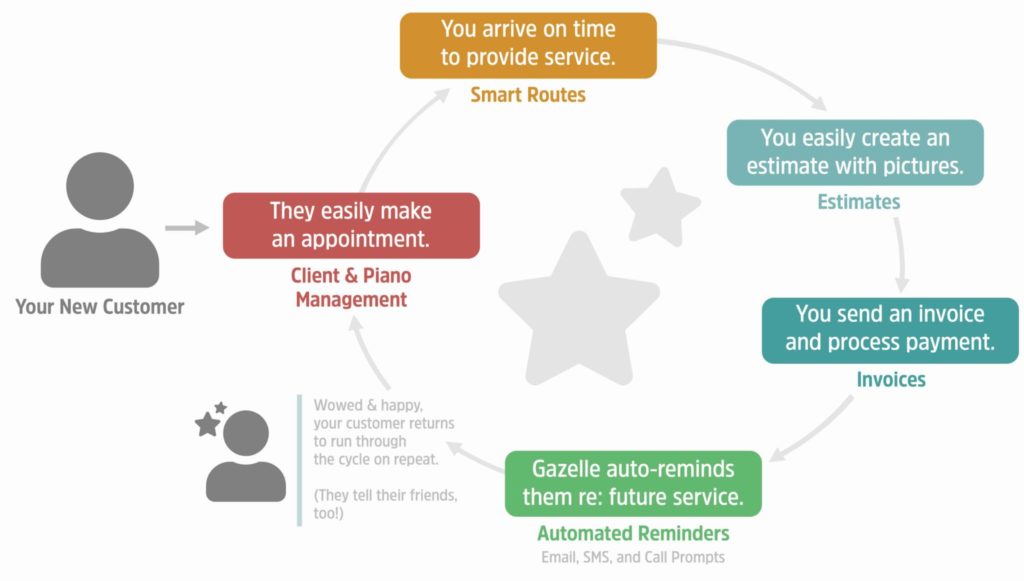 Custom built for piano service professionals – Gazelle's key features are designed to work together
helping you save your time,
wow your customers,
play more music,
and grow your business
from your desktop or phone.
We've helped thousands of piano service businesses around the globe double their revenue and save 10+ hours in the office every week.
Best in the Business
I have never come across anything so good for the piano service industry.
Ron Moore
Moore Piano
My schedule is busier than it has been in years!
A huge help in the field and greatly speeds up my daily tasks like editing records, contacting customers, and more. The development team is very responsive….new features are added all the time.
Ken Farrington
Integrity Piano Service
Bookings have doubled!
This system has changed the way I do business. Bookings have doubled, and my schedule is consistently full. Scheduling is a breeze, and I don't have to worry about sending out reminders. The Estimates & Condition Reports help me keep track of what each piano needs and let clients know what is going on with their pianos.
Thank you, Gazelle, I couldn't do this without you.
S.G. Krishnaswami
Golden Tone Piano Service